30 years ago, the first Gracie Barra school in the world was established. Created by Master Carlos Gracie Jr. – son of the Brazilian Jiu-Jitsu creator – Gracie Barra would become more than just another Jiu Jitsu school. Any school that protects the Red Shield would also represent the continuation of Great Master Carlos Gracie Sr.'s dream to take Jiu Jitsu to as many people as possible and share with the world all the benefits of the gentle art.
A plan somewhat ambitious for that time, but that would thrive years later. We took one step at a time. Firstly, we have conquered space in the competitive world, beating all the favorite gyms at that time. We revealed real talents as the greatest champions in the history of Jiu-Jitsu. We won the biggest titles that any competition could offer. And just after this dominance in sports realm, we decided to extend our mission and take an even more challenging path to our own history.
For us, sports achievements would not fulfill ourselves completely. After all, they surely left us happy, but something was still missing. What we truly wanted for ourselves and for all of the world's population had not happened yet. But how can we grow? How can we take the art that so many people love to different ages, genders and cultures? It took patience, intelligence, work and perseverance.
Our leader and founder, Master Carlos Gracie Jr., mapped out our next steps and gave us a mission: Jiu-Jitsu for Everyone. In 2005 the path began to be followed. In the very first Gracie Barra headquarters outside Brazil, in Irvine, California, the GB teaching methodology, the class programs, uniforms and instructor certification courses all formed our foundation that was starting to branch out.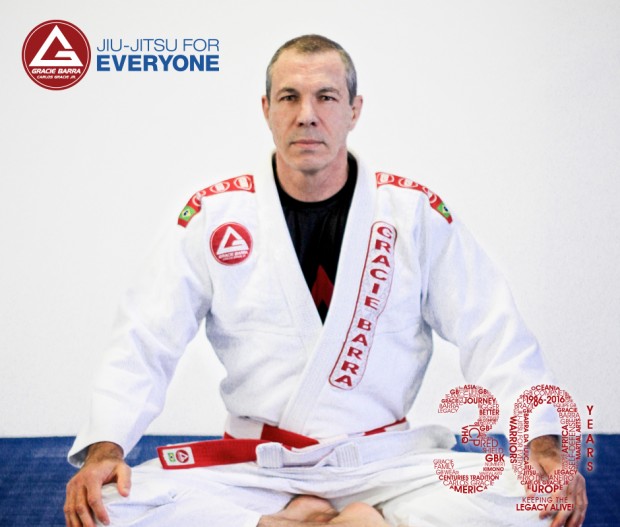 From one location in Rio de Janeiro to more than 500 schools around the globe. Many still can't understand what makes GB to be the GB it is. It is not difficult to express in words, as behind such great expansion, we had many hours of very dedicated work on and off the mats. There were ideas with trial and error, always taking the collective success of the group into consideration before the individual, always seeking the same ideal.  Every time we tried and failed, we went back and overcame ourselves once again. We were (and still are) made from the fight. From the defeats we learn the path to the victories, and from those times we won we took with certainty that perfection is only achieved after much effort and sweat is produced. We did not "make a story", we are the living history.
Why are we the largest jiu-jitsu school in the world? 
Because we are GRACIE BARRA. And being GB is not simply being part of a team. Being GB is being a member of the biggest and greatest jiu-jitsu school that the world has ever seen. 
"♫ Uh é Gracie Barra Aha Uhu ♫"